Cabinet Creator, version 3.25 (32bit), is designed for the shop or individual who wants to start building their cabinets, vanities, bookcases, etc., immediately. Cabinet Creator will produce a cut-list for face-frame cabinets with overlay or flush style doors and drawer fronts. With very little dimensional input, this program will produce a complete cut-list for each cabinet, (including cabinet boxes, face frames, doors, drawer fronts, and drawer boxes). It will also produce a front elevation drawing to scale of each cabinet. It comes with the following accessories: A panel- door program module, a master cut-list program module, and calculator/converter program module are all included.

DOWNLOAD CABINET CREATOR 3.25 and use all the functions free for 25 days. If you like it, purchase an unlock code and use forever.
The Full Version of Cabinet Creator 3.25 can be purchased for
$49.00
To Purchase Cabinet Creator 3.25 unlock code please click PayPal link:

Please Download and try Cabinet Creator 3.25 before purchasing. There will be no refunds ONCE unlock code is received.
See Cabinet Creator Screen Shots Below
Main screen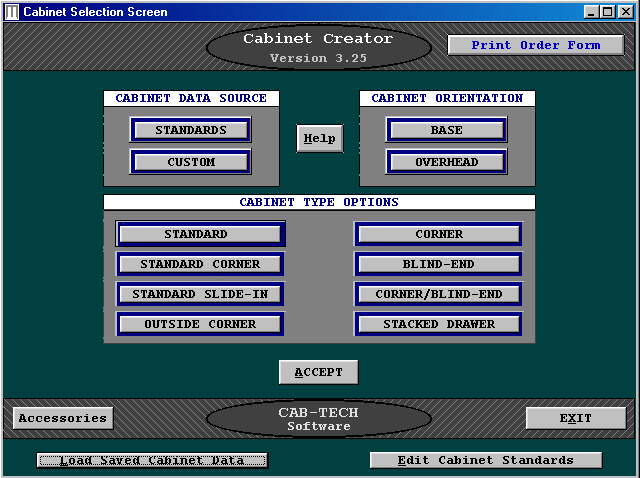 Master cullist main screen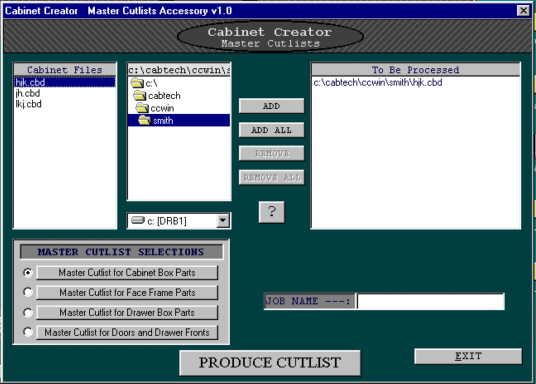 Panel Door and Drawer Front main screen.


All rights reserved copyright 1996-2021 by CAB-TECH Software